Covid-19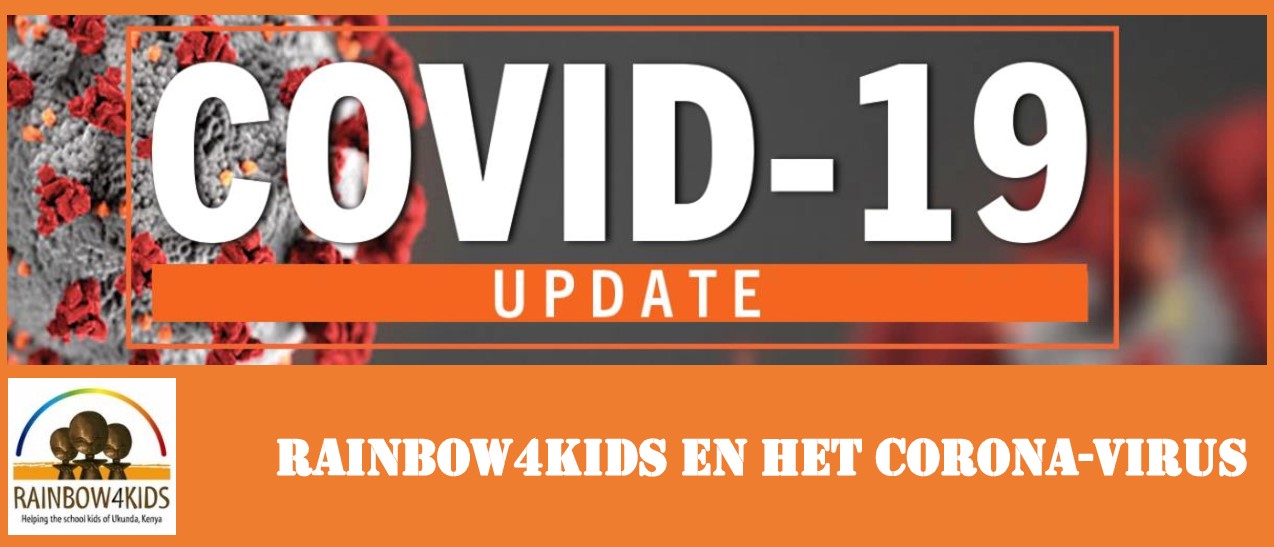 ​
For introduction
On this page of our website we want to keep sponsors, sympathizers and friends of Rainbow4Kids informed of how we deal with Covid-19 at the school.
As you may know, Kenya also went into lockdown on Monday 16 March and all schools were closed indefinitely. We regularly post an update on how things are going.
The latest news is always at the top.
You can also follow us on Facebook:
https://www.facebook.com/pg/Rainbow4Kidsbe-110277329045194/about/?ref=page_internal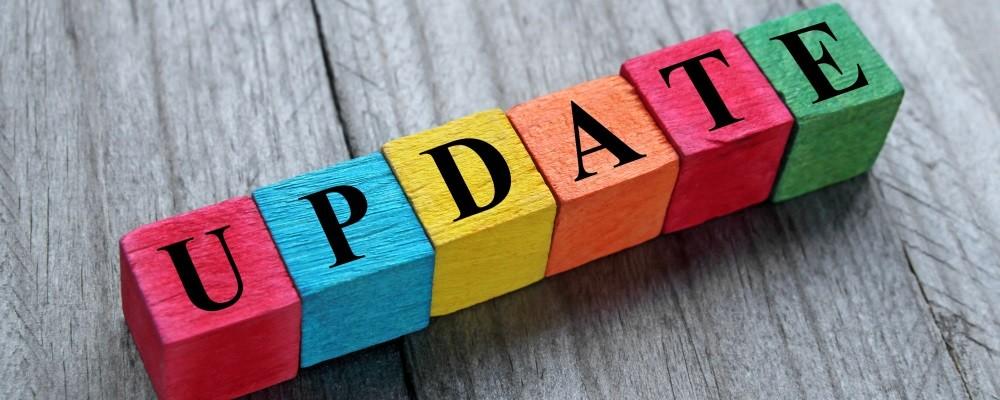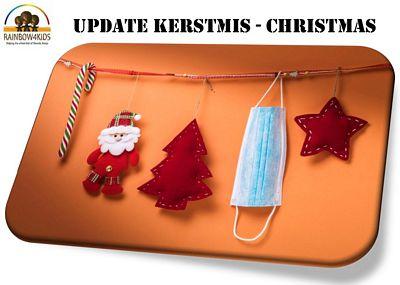 Update 23 December 2020
On 12 December, President Uhuru Kenyatta announced that all children will be allowed to return to school on 4 January 2021.
Other years start in January a new school year, this time because of the school closure by corona, the second trimester of the school year 2020 is started, followed by the third trimester with the transition to the higher classes. The new school year 2021 will start on 26 July 2021.
For pupils in grades 4 and 8 who were already allowed to return to school in September, there is only the third trimester to go. During the third trimester of the other years there will therefore be no more grades 4 and 8.
The Ministry of Education made a very complex schedule that envisages to be back in normal rhythm from the school year 2023. In the meantime, for example, there are not 3 but 4 periods this year and the holidays are also shortened here and there. It will require an adjustment for both management, teachers, children and parents.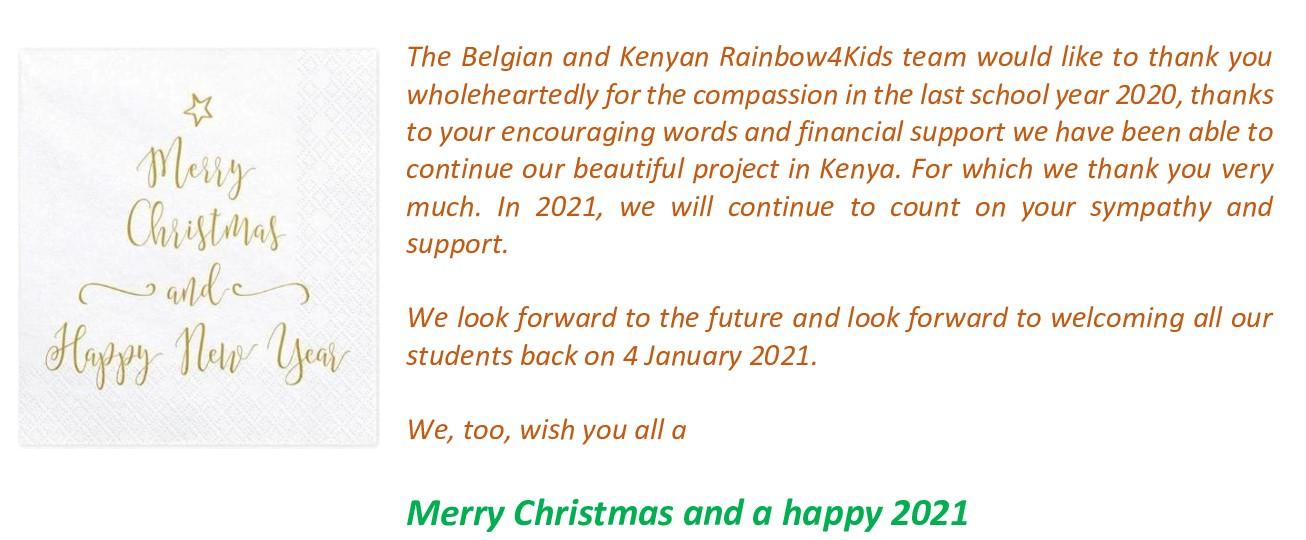 Update 15 November 2020
It's been a while since you've heard from me. It is and remains bizarre times, both in Kenya and in Belgium.
1) The President spoke again on Friday about the new guidelines of Covid 19, but in the field of education everything is still very vague. Within 2 weeks, the Minister of Education will send us the new school year calendar. So far, Grade 4 and 8 must remain in school until December 23, 2020.
It remains a big mystery how they are going to deal with this. Because now these 2 classes are in the second trimester and next year they would start the third and final trimester. But at the beginning of January 2021 the other children would also come back to school... How we're going to handle this, I don't know. There are already several 'rumors' that the government will demand to provide and/or build a classroom for the current class 4 and 8 of this year (this is impossible for Rainbow4Kids), other rumors are that class 4 of this year will be merged with class 5 of next year. This is also totally illogical because the children of class 4 of this year have been given all the material... And we don't have that space to put those kids in one classroom. Nor do we have the budget to recruit additional teachers. Anyway, we're waiting for the official guidelines.
As far as class 8 is concerned, it is even more unclear, which, according to the plans, would start their last trimester in January and follow the final exams at the end of that trimester.
2) Our Kenyan management team continues to do everything possible to protect our children sufficiently and to keep the School Covid free. That's why they divided grades 4 and 8 into groups of 6 children, for which one teacher was made responsible each time. During playtime, these groups stay together and the teacher can better monitor whether they keep their mask.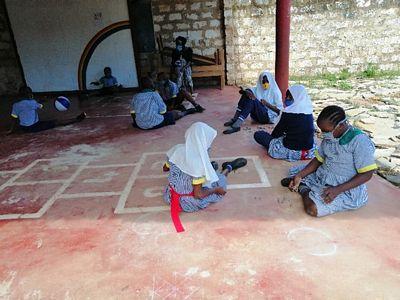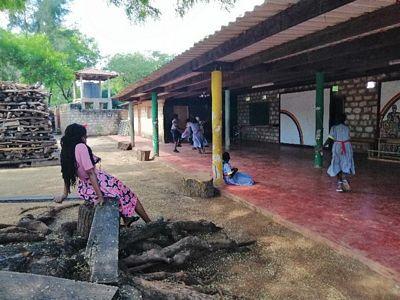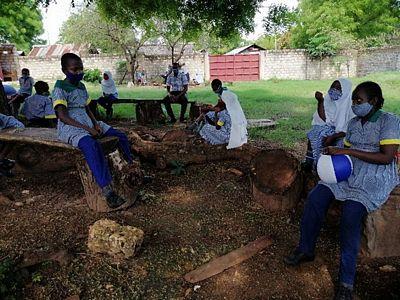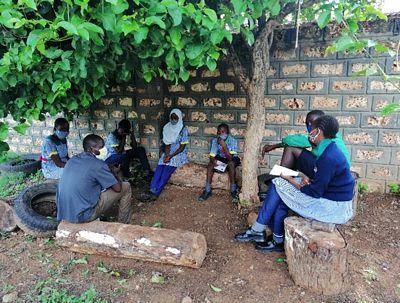 3) It was also decided to split class 4 into 4 groups of 10 children during this corona period. All primary school teachers were called in to teach.
4) For the Corona, school before and after classes was always "tuition" (a type of study), supervised by a teacher.
Because this is outside the remit of the teachers, they received an additional fee. As it is now a difficult period for Rainbow4Kids financially, the management has decided not to allow the study to continue for the time being.
5) Normally, at the end of the school year, all our children send a personal letter to their sponsor with Christmas and New Year wishes. This year this will be very difficult because there are only 2 classes at school. We have decided that grades 4 and 8 will write the usual letter and that we will send that letter to their sponsor. What about the other kids? Their class teacher has written a letter and we're going to email it to the sponsor so we can save a little on port costs.
6) BUT... Corona also has its advantages! I've been here since September 15th and I feel much calmer than usual. I finally have time to have a chat with the kindergarten teachers and take a look at the educational material they have in their class and restore it. This collaboration feels really good. I was even asked by Teacher Joyce if I could help in the upper primary. Because she actually didn't think I liked to. 😉
I went over one of the new books in grade 4 for a moment in relation to the subjects they have to give. Some of them are: sewing, polishing shoes, cooking, ... What is particularly striking in the new curriculum is that the lessons are based more on the use of concrete material (as with us). I know this isn't really going to happen. 😉. That's why I came up with the proposal to put together 'theme box' with all the material in it. The teacher will only have to take the theme box (hopefully 😊) and she has all the materials she needs to teach.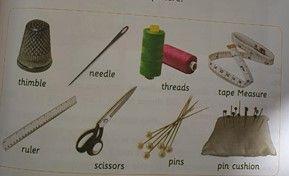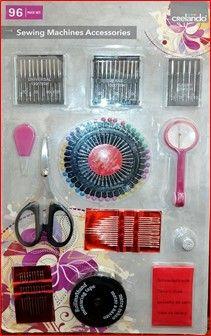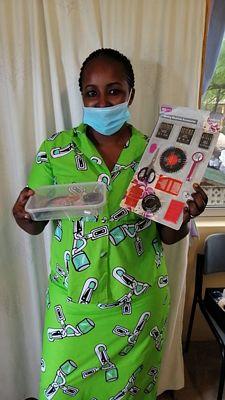 Example in textbook. In the theme box: de sewing class in our talent school once got 12 of these sets from
Denise. (luckily we didn't use it there 😊)
7) Mary Rose and I went to visit our twins James and Jacob, Rose and Anna (children of our school). Because the children now live with the grandmother, along with 13 other grandchildren, in the Shimba Hills. After an adventurous ride through the beautiful scenery we were welcomed by happy faces. The kids looked especially healthy. It couldn't be more different because the mangoes and passion fruits were just on the ground for the turnip. It was nice to hear that Anna takes her responsibility as 'now' eldest granddaughter (because Jaqueline has stayed in Maweni), she gets up at 6 am to work in the vegetable garden and she makes 'ugali' for Grandma and all the grandchildren. Her way of reacting also made her a very sweet adolescent. We went home with a very happy feeling.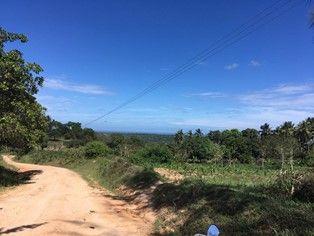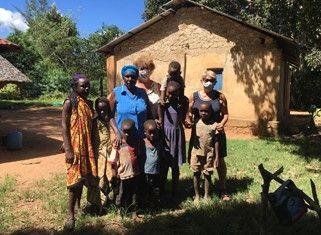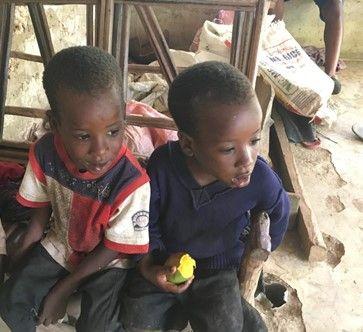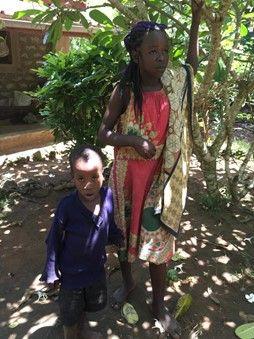 8) Even after 10 years of experience, running a school remains a big challenge. Especially to create a team that pursues the same goals: "good education and a safe learning environment". Unfortunately, Mr. Wycliff violated the rules and punished another child with caning. (for this he received 2 warning letters before). Giving canings in Kenya is thankfully prohibited by law, but some teachers use this as a means to maintain discipline in their classroom.
After a few interviews, Mr. Isaac has taken his place, and it feels good so far.
This is just about the main news from warm Kenya... Keep up and respect each other's health!!!
Greetings
Katrien - Mama Rainbow
Update 12 October 2020
Since the closure of the school because of corona on 16 March 2020 finally good news because on.
On Monday 12 October 2020, pupils in grades 4 and 8 were allowed to return to school.
Here are some atmospheric photos of the 'first' school day.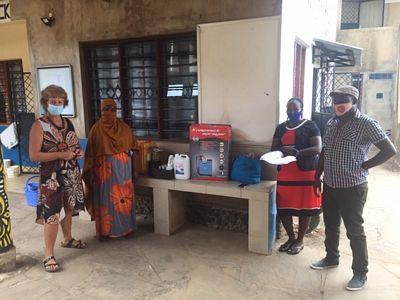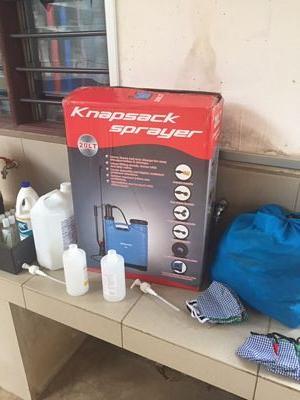 All the protective equipment is ready: hand gel, mouth masks, disinfector ...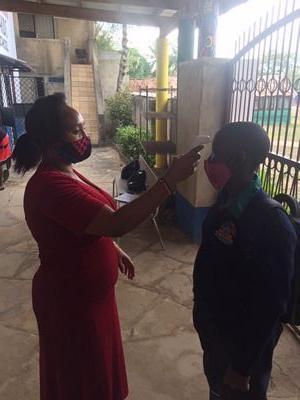 When entering school, everyone's temperature is taken.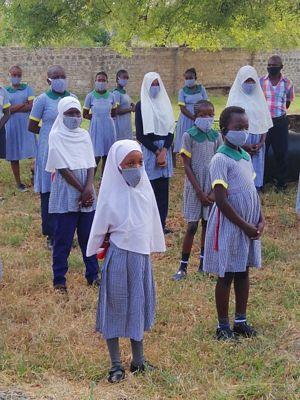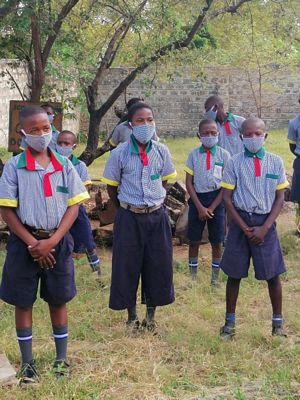 Everyone has his or her mouth mask on and respects the one and a half meters away.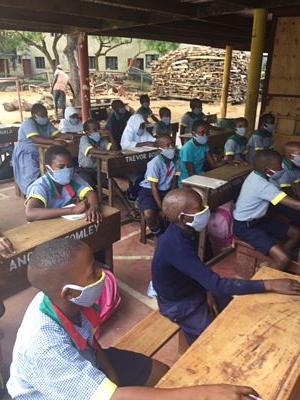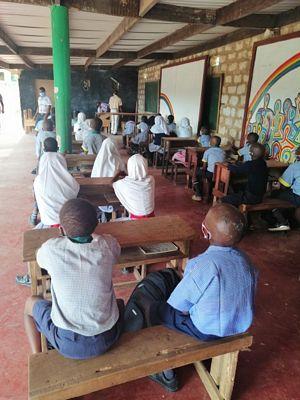 Our open-air class on the playground.
Update 30 September 2020
In our update of 22 September 2020 you could already read that a meeting at the school had to go ahead to discuss the reopening of the schools on 19 October 2020. Each school received guidelines for this from the Ministry of Education and had to solve this in its own way. Mama Rainbow was also present at this meeting of our Kenyan team and tells in this update how we are going to solve this for our school.
We got 12 pages with the conditions we have to meet. I tried to make a summary of it.
1. Covid Committee: consisting of a minimum of 5 people, representatives of management, teachers and non-teaching staff.
Solution: the directors Mrs Joyce and Mrs Fatuma, the teachers Mr Ibrahim and Mrs Bernice and the chairman of the parent committee will be part of it.
2. Use of disinfection gel (sanitizers))
Solution: 2 teachers are at the gate in the morning and evening. Everyone who comes in and goes home gets a drop.
We are still looking for an affordable solution. Because so far the lowest price we have found is 8,200 KSH (€ 64.56) for
20 liters and this at a wholesaler in Nairobi. And we will need many, many, many liters. The purchase of the disinfection product will therefore be our biggest cost during the coming months.
3. Hand washing: when and where?
Solution: the hands are washed as always before eating, but now also after every play time.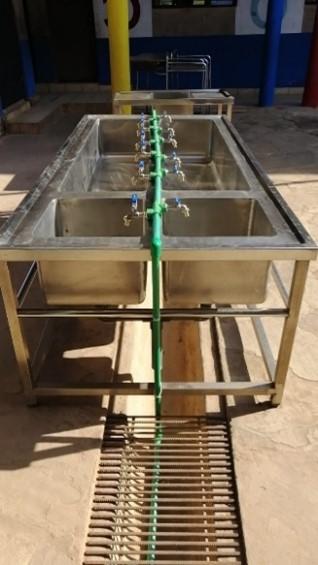 Each class is assigned its 'own' crane within the school and the class teacher goes with the children. They/he puts the soap on their hands. It has not yet been decided where we will buy the hand soap.
Angelo, our support and support for technical problems, came up with the idea to provide additional cranes to the bin where we are now washing the signs (see photo). We deliberately didn't set them up, so we can always take them off to be able to use later to replace a broken crane. Because the purchase price of 1 crane is 1000 KSH (€7.87). ☹
The timetable would also be adjusted so that the children have more time to wash their hands
4. Daily disinfection of the classes (= everything in them), toilets and all doorknobs (sound)
Solution: apparently the same product is used for this as for disinfecting the hands. For this we will need a special device for purchases (see photo). Omari, our night watchman at the school and the chairman of the parent committee are going to do this sane every night.

5. Masks: every child and teacher must wear a mask at school. They can't change the masks.
Solution: we have already had 360 masks made in the same fabric as the uniforms. We are still waiting for the 140 masks that were promised at the end of August 😊. So every kid gets one mask from the school.
And what about the teachers in the classroom? Their desk will be set on 1m50 of the children and within that space they will not have to wear a mask. They do this because they think it's important that the children understand them for sure and they also think it's important that the children see their facial expression. I'm behind it, too. If they're walking around in class, they'll put on their masks.
6. There must be a thermo gun: everyone who enters the school must be checked.
Solution: Dany has ordered one in Belgium and will bring it next week, because in Kenya they are very expensive
(80 to 150 euros)
7. Porridge and lunch: reorganizing the groups so that as few children as possible come close together.
Solution: the preschoolers go to eat in their class. The lower classes are given more time to eat, so that the distance can be more or less respected when going outside (less drumming).
The kitchen staff must wear a hoarset, gloves and a mask. And they also need proof that they're in good health. (Apparently that's already in order)
8. Communication: pupils should be kept regularly informed about Covid.
Solution: for the opening parade we go to the playground, so no more in front with the flags.
Teachers should communicate with each other through: memos, chat, text messages and emails..
Solution: they can still talk to each other, even with a mask on 😊.
9. Medical support: we should be able to indicate on a map where the nearest health center is located (within a radius of 10 km) and also who is going to support us emotionally and psychologically in case of a "corona case".
Solution: Dr. Onkoba, right in front of the shopping center 'Shandarana', is going to take on this task.
We need to have a separate room, in the if we have to isolate someone with symptoms.
Solution: 2 beds will be made in both dormitories of the boarding school.
10. A little bit of everything
We have to put stickers everywhere: on the ground, the walls and doors with 'social distance'; 'wear the mask' ...
Solution: Barasa, our school director, will print, laminate and hang some logos everywhere.
We need to have an update on the personal data of all parents, teachers, management, cooks and gardeners so that we can reach everyone in case of an emergency.
Solution: we adapt this information every year... But a once too many can never hurt.
Benches should be lined up and no longer in groups.
Solution: this is already in order.
The presence of parents and visitors at the school is strongly discouraged. If necessary, all their data must be recorded at the school gate (name, mobile phone, place of residence...). Unannounced visit to the school must be refused, but can be done at the school gate. Communication must be made by phone or online.
The gymnastics lessons can't go on anymore. (Not even outdoors)
Apparently there are not enough 'metal plates and cups' more for all children. And since that is also one of the conditions, that they are not allowed to share anything like writing and probably no plates and cups (but that is not quite clear yet.) Barasa decided that the upper primary (classes 4 to 8) should bring their own plate and cup. But then we had to find a solution how the children recognize their own comfort.
Solution: we have bought draining racks in 5 different colors (1 color per class). We're going to put it on the steps on the flag. And the kids put their plate and cup on it. Because one of the conditions was also that the plates and cups had to be given enough 'air' to dry. And this system will do this. After that, the drain racks are put in their own classroom.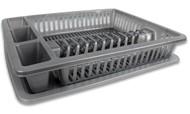 So we're going to give every kid a mask. But then my question was: and what if they come to school without a mask?
Decision: the first day we're going to let this go because they're going to get one from the school. But in the next few days, they'll be sent back home. Because the management team assumes that they can wash that mask with only water themselves. And we also want to give the children responsibility. This is going to be a bit of a wait and see with big doubts on my part... But sometimes I also have to believe in their decisions and accept them.
And to my question, what if the children do their masks at school?
They would discuss this with the teachers, what sanctions will follow. I have insisted that it is the same for all classes.
These are broadly the conditions that we must meet IF WE OPEN. Because remember the last sentence of my update of September 19, 2020: 'So... Kenya remains Kenya... UNPREDICTABLE!!!'
And turns out to be true. Because the president has spoken again and he has decided that alcohol can be served again, that the bars can be opened again and that we should only be home at 11 p.u.in instead of 10 p.m.
BUT THAT IT IS STILL NOT CERTAIN THAT THE SCHOOLS WILL OPEN ON OCTOBER 19, 2020...
so everything was adjusted... but the most important thing... that he has also revised...
DE SCHOOLS ARE NOT OPENING YET... OUTRAGEOUS... JUST OUTRAGEOUS...
Because I really do feel that the children are having a very difficult time at home, but also the parents... and that's why I'm so happy to be able to experience that the homework book and the kilo ugali (flower) really make the difference. (From the ugali and every child 4 days food).
Barasa is committed to complying with the conditions imposed. Because he told me that he is sure that we will get inspection... because Rainbow4Kids is in the crosshairs... a little envy...
But we have proven and continue to prove that we are really there "as a school" for the children BUT now also for the teachers!!!
And I really feel that, there's a whole different atmosphere... an atmosphere of sincere gratitude.
Therefore, once again my personal thanks to all sponsors, sympathizers and core team to
TO KEEP BELIEVING IN IT TOGETHER!!!
Mama Rainbow - Katrien
Update 24 September 2020
Anyone who follows the updates on Covid-19 knows that on Thursday the parents come to collect the corrected homework at school and also receive a kilo of flour per student. Mama Rainbow, back in Kenya a few days ago, tells and shows in this video how this works.
Thanks to our sponsors, we cannot give our children a kilo of flour every week, so they are happy to eat on time. Thank you very much.
https://www.rainbow4kids.be/f/vid/R4K_september.mp4
Update 22 September 2020
We already received a new update from Mama Rainbow today about the first days she spent at school and the good news that the schools will be reopened from 19 October 2020.
So far, everything is going according to plan.
Every morning the 'teacher on duty' must be at school at 7.00 am and the other teachers arrive at 9.00 am. Around 1:30 p.m. everyone leaves home. The 'teacher on duty' and someone from the management will stay until 4 pm.
I mainly focus on explaining the material I had made during the corona time and in the meantime I have more contact with the teachers... feels very good!!
Now I finally see with my own eyes the workings of the homework book. The parents seep in, wearing masks, and go to the respective teacher to pick up the book. For some "families" it seems to be a problem. Given the different family situations in our school: children who live with their grandparents, children whose parents are alcoholics or children whose parents have never been to school themselves (they do not make the effort to come and get the book). Fortunately, in this bizarre period, the school proves once again that we are there for ALL children. Our Fatuma, apparently, has gone to those families themselves and agreed that those children can come to the gate and that they drop off their book there, pick them up and get the ugali on Thursday.
I think the rumors of opening the school early are now becoming true. Because today I got an official letter at my office to go over and Friday we're going to have a management meeting.
An appeal has already been launched for all teachers in all schools to be back at 'no later than 28 September. The scheduled re-opening dates are October 19, 2020.
They have changed the school calendar: we start our second trimester on 19 October and in January we start our third trimester. And the new school year might start in May 2021. So there is no longer any question that the children have to redo their school year... They just moved everything up.
I'm going to tell you soon how we're going to resolve all the imposed requirements and obligations in our school.
Kwaheri
Mama Rainbow - Katrien
Update 19 September 2020
Since the lockdown in Kenya that started on March 14, 2020, not a single Rainbow4Kids team member has been present in Kenya. Fortunately, during this difficult time we were able to keep in touch with the Kenyan team via skype and WhatsApp.
Since a few days Mama Rainbow - Katrien Vermeersch - is back on the scene and she gave us an update on the preparation and trip to Kenya and the reception at the school.
Jambo
I arrived safely in Kenya on Thursday, September 17th. It was a very exciting period that preceded it. Because of all kinds of stories that we had already heard, it turned out not to be so obvious to travel there. Still, we took a chance.
Dany, my husband, has written to several agencies to find out exactly what they expect from the federal police (where they check your passport = customs in Zaventem) to show why my movement was essential. But nowhere have we received a concrete answer. ☹
We have copied all possible supporting documents (proof of registration of the non-profit organisation in the official gazette in Belgium, proof of registration in Kenya, ownership action of the school, ...).
After a sleepless night and several toilet visits 😊 we left for Zaventem on Wednesday, September 16th. At the Ethiopian airlines desk, they only requested proof of the Covid test and the QR code. (First problem solved!). After scanning my hand luggage, I went to passport control with a beating heart.
Prepared for the worst. I showed that man my pass and my ticket. The only thing he said was, "It's ok!" and he gave me everything back. After some hesitation, I asked him if he should not see my papers and if my husband could travel to Kenya within a few weeks. He said that the regulations had changed and that they were no longer asking questions, but that it was always good to have the documents. I haven't asked any more about what documents they're always talking about anyway, because maybe he could change his mind and you never know. 😉
I went to school today, Friday 18 September: first had a great conversation with Barasa, our headmaster and then with Joyce, the vice principal, and then I asked for a meeting with all the teachers.
After the usual prayer, Barasa said on behalf of the teachers his "thanks" because they now really feel that we as a team are there for them, ALSO IN DIFFICULT TIMES.
I have told them that we know that in other schools teachers are not paid, and that it is not so obvious to us to bear these extra costs. I had Barasa mention the amounts we pay monthly for the books and weekly for the ugali. I saw astonished looks from most teachers, they had no notion of what it cost us as a project.
I also talked to them about the corona, because I had heard many times that most Kenyans are convinced that there is NO corona in Kenya.
I also said that I would use the time I am in Kenya to visit everyone individually to listen to how we can support them even better.
Then I had a conversation with Fatuma to hear what she had done during these months. She was mainly concerned with the maintenance of the school and I had also given her some assignments from Belgium, but I will look at that on Monday. What made me happy was that she spontaneously said that she had gone to some parents' house to check what the family situation was like and to motivate the parents to help their kids to fill out the homework book.
Then I went to my office and to my great surprise I saw a bouquet of flowers, a wreath of hearts on my chair and a beautiful letter of thanks. All the teachers and the other staff had laid together!!
IT DID GOOD... Yes, I shed a tear.
On Monday I will work with Barasa to see what we still need to do to prepare the school for the reopening.
But there are now also rumours that they may open as early as October.
So: Kenya remains Kenya... Unpredictable!!! But maybe that'll make it exciting 😊
Mama Rainbow
Katrien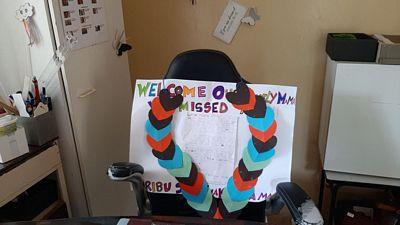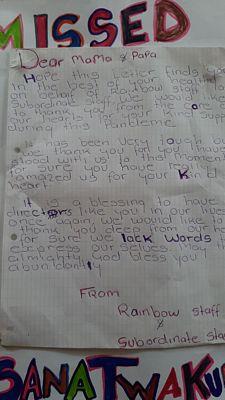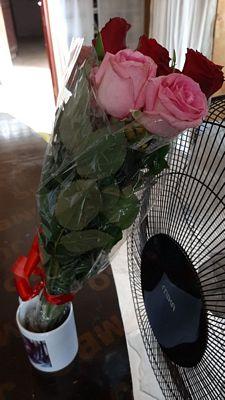 Update 31 July 2020
Today was the last day of the second trimester and tomorrow the holiday for students and teachers will start. As you probably remember, the schools in Kenya were also closed on March 16 and all of Kenya went into lockdown.
During those 4 months the students were not allowed to come to school.
But our Kenyan school management worked out a system to be able to teach their students by using "homework" books. Every week one of the parents comes to school to pick up the book and the teacher noted what their children have to do in that week.
And because many of our children are really hungry, every child gets a kilo of flour to take home every week when they bring the book to school.
We were only able to finance the purchase of these books and the necessary kilos of flour thanks to the beautiful extra gifts we received from you, dear sponsors and sympathizers. Thanks to great actions (sales of homemade waffles, pancakes and potholders in the Pajottenland and pastries in Limburg) from our volunteers here in Belgium, we also raised a nice amount. Thanks to both the bakers and the buyers.
The past few months have taught us that our teaching staff is resourceful enough to teach our children a few things during this bizarre time. We have also experienced that there is also a good relationship between the parents, because they help each other and the parents now also pay more attention to follow up their children, for which we are very thankful and happy.
Tomorrow the holiday starts and that means that the children do not have to work in their homework book and the teachers can also enjoy four weeks of rest at home.
The Kenyan government has meanwhile decided to discontinue the entire school year 2020 (see our previous update), we will continue to do the homework books in the last two months of this school year and the children will also receive a kilo of flour every week.
In the meantime, we are making the necessary 'prescribed' adjustments in our school so that on January 4, 2021
we can welcome all our students again in their trusted and safe learning environment.
Once again our sincere THANKS - ASANTE SANA to everyone who made a bank transfer last month to cover our additional costs for the purchase of homework books and flour.
Update 9 July 2020
Since 8 July it is official: the schools in Kenya remain closed, they start again on Monday 4 January 2021.
On 8 July, Professor Magoha, Minister of Education, announced that schools would not reopen until 4 January 2021,
this is in contrast to the original plan to open on September 1.
So all students will have to redo their year.
Of the 340,000 teachers, about 172,000 receive no or no pay. In particular, private schools, which are funded only by the school fee of the parents of the children whose donations are no longer sufficient to cover the costs, are currently going bankrupt or have no teaching staff if it continues.
Even state schools are paying wages with delays, and the new teachers who start teaching in 2020 are not even paying them at all.
Thanks to the financial support of our sponsors, friends and supporters of Rainbow4Kids, we can still continue to pay our teaching staff their wages.
Rainbow4Kids teachers all come to school several times a week, work out homework for the children and correct them after submission. Our children also get a kilogram of flour every week, so they definitely have something to eat.
We have been thanked several times from Kenya for the support they receive in these difficult times.
This month it is officially still school and there is still "homework" done. In August it is officially holiday and there will be no homework. From September we will start again with the homework and with the preparation of the new school year which thus starts on 4 January 2021.
Just a reminder
All donations from 40 euros that will be transferred in 2020 to Rainbow4Kids through our account with Fracarita Belgium give rise to a tax reduction of 60% on the actual amount paid out in the tax certificate. You can transfer the amount you want to give to account BE51 4459 6281 2162 of Fracarita Belgium,
Jozef Guislainstraat 43, 9000 Ghent, with the structured notice: +++441/2005/00162+++.
Update 3 July 2020
🌈 Want to support Rainbow4Kids extra this year?
Then this year - because of Covid-19 - you get a whopping 60% tax break instead of the usual 45% (Only for Belgium).
Thank you very much for supporting us in this way. 👍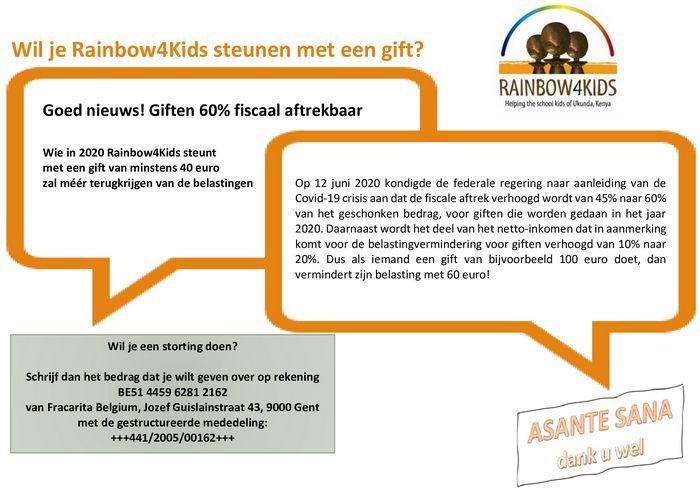 Update 24 June 2020
Here's an update on what's going on in Kenya at our Rainbow4Kids school.
At the beginning of this month we were asked by our school principal, Mr. Barasa, if we still had enough budget to buy a new set of 'homework' books (because 1 book is good for one month) and 1,764 kilos of flour.
Before we made the decision, we asked him clearly if he would like to check that all the exercises were actually made. The next day he already e-mailed some photos and a video to show that the books are actually being used.
This video can be seen on our Facebook: https://www.facebook.com/watch/?v=1552680324910098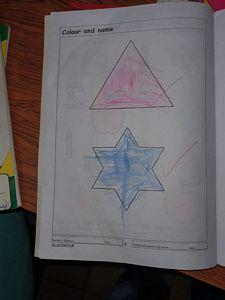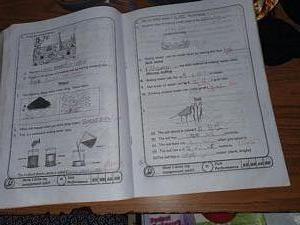 He also agreed and confirmed that we really do help our children and their parents in this way using the following facts:
A father came to tell him (Mr. Barasa) that his daughter was very disciplined. Because when she was playing outside for a while, she spontaneously went in to continue working.
I asked him if maybe the motivation was because they got a kilo of flour every week. Of course this also plays a part. But he also said that it is a great help for the parents, because otherwise their children hang out on the streets too much and also for the children it is apparently not a 'punishment' to make their 'homework'.
He also mentioned that the teachers noticed that some parents had made the exercises themselves.
The teachers have now been instructed to tell the parents that the intention is that the children do it themselves and that making mistakes can and can still be done... But that, if they continued to make the exercises themselves... they wouldn't get flour anymore.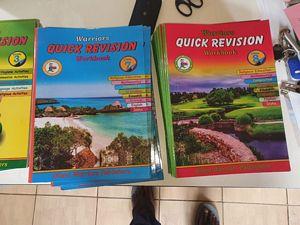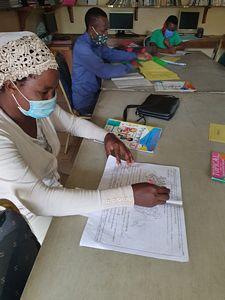 The homework books for this month. The teachers improve homework.
Schools will remain closed until September 2020. The month of August is a school holiday.
In the meantime, we are also considering how and how the schools can be restarted.
We received a questionnaire today with guidelines that the school would all have to comply with before we can reopen.
Are there enough places where the children can wash their hands? (this for 20 seconds)
Is there enough liquid hand soap?
Is there any way to keep 1 meter away in class?
Is there a possibility for social distance in the teacher's room?
Is there social distance in the dining room?
Can the food be given in other places?
Does the school have a fever thermometer?
Do you have an isolation room where someone with a fever can possibly be taken care of?
How are you going to organize the "parade"?
All staff and pupils must wear a mask.
All visitors must wear a mask.
How are you going to provide psychological support for infection?
A whole sandwich... But fortunately, our school has a lot of space. We proposed the inspection to use 2 of the 4 classrooms in the Rainbow Talent Academy, plus the 4 additional rooms under the roof (thanks to the sliding walls) and to put all the beds of the boarding school in one room and to use the other room as a classroom.
Washing hands is also not a problem, there are enough taps scattered throughout the school to be in order. We can house the isolation room in a vacant desk and to eat, we have proposed to do this in the classes.
There are certainly more practical problems coming our way, but we are firmly convinced that we are one of the few schools in Ukunda that will 'as good as possible' follow the law
This was the latest news from Kenya.
We are very happy and happy that thanks to the transfers we received as a result of our additional newsletter, we were able to give Mr. Barasa the permission to buy 'homework' books and flower for our children again.
THANK YOU... ASANTE SANA
Mama Rainbow
Update 4 June 2020
In our last update of May 19, you can read in our extra newsletter that we received a cry for help from Kenya with the message: "Help us, if possible, our children are hungry".
In response to this email, we had to find a solution to help our kids.
In consultation with our Kenyan team, we decided not to abandon our children despite the closure of the school. We offer them the 'homework' books for free, because most parents are now unemployed and cannot afford them.
In the beginning the children came to pick up the books on Monday, in which the teacher indicated which exercises they should do and on Thursday they brought them back for review.
Our teachers noticed that the children were "hungry", so we started giving 1 kg of flour every Thursday when they come to show their homework at school. The flower is an extra motivation for the children and the parents to make their exercises at home.
However, we have had problems with the government because there were too many children in school and we were suspected of teaching "illegally".
We didn't wanted to stop to help our kids so we found a solution together with the management. Now only the parents are allowed to return the books and the flower is given to them after signing a receipt.
Our children and parents are extremely grateful for this extra support.
On behalf of all our children, management, staff and the Rainbow4Kids team in Belgium and Kenya, we thank all the lovely people, with a ♥ for Rainbow4Kids to think of our children in this corona time.
Do you also want to help us?
Please transfer the amount you want to donate to the account BE41 7330 3873 0110 of Rainbow4Kids in Lennik with mention 'Ugali' or on account BE51 4459 6281 2162 of Fracarita Belgium with mention '+++ 441-2005-00162 +++'.
(Use this number if you want a tax certificate, from a gift of 40 euros).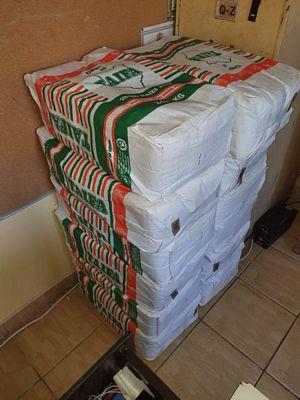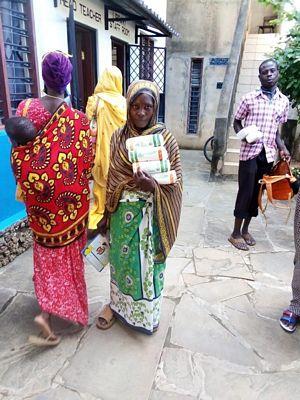 Our stock of Ugli (flour) is ready. On Thursday in the morning it is a coming and going of parents to have
their children's homework checked by the teachers.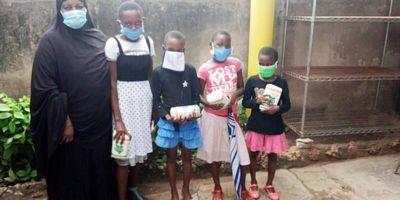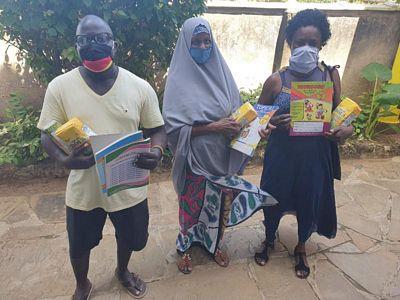 In Kenya, wearing a mouth mask is mandatory. The whole family has come to school and returns with the Ugli
with satisfaction.They'll have food back in the house with that.
Update 19 May 2020
Dear Rainbow4Kids sympathizers,
I hope you're okay.
I hope you're healthy and well.
Hopefully, like us, you'll try to reduce the corona measures bit by bit.
Hopefully we return to our normal lives, a normal handshake, hug or kiss ...
So much hope to get through this together.
The ones that may be hit hardest are the least guarded countries and people.
With great concern we follow what is happening in Kenya, where a particle of our hearts lies.
We invite you to read an update on the situation in our Rainbow4Kids school in our additional newsletter below.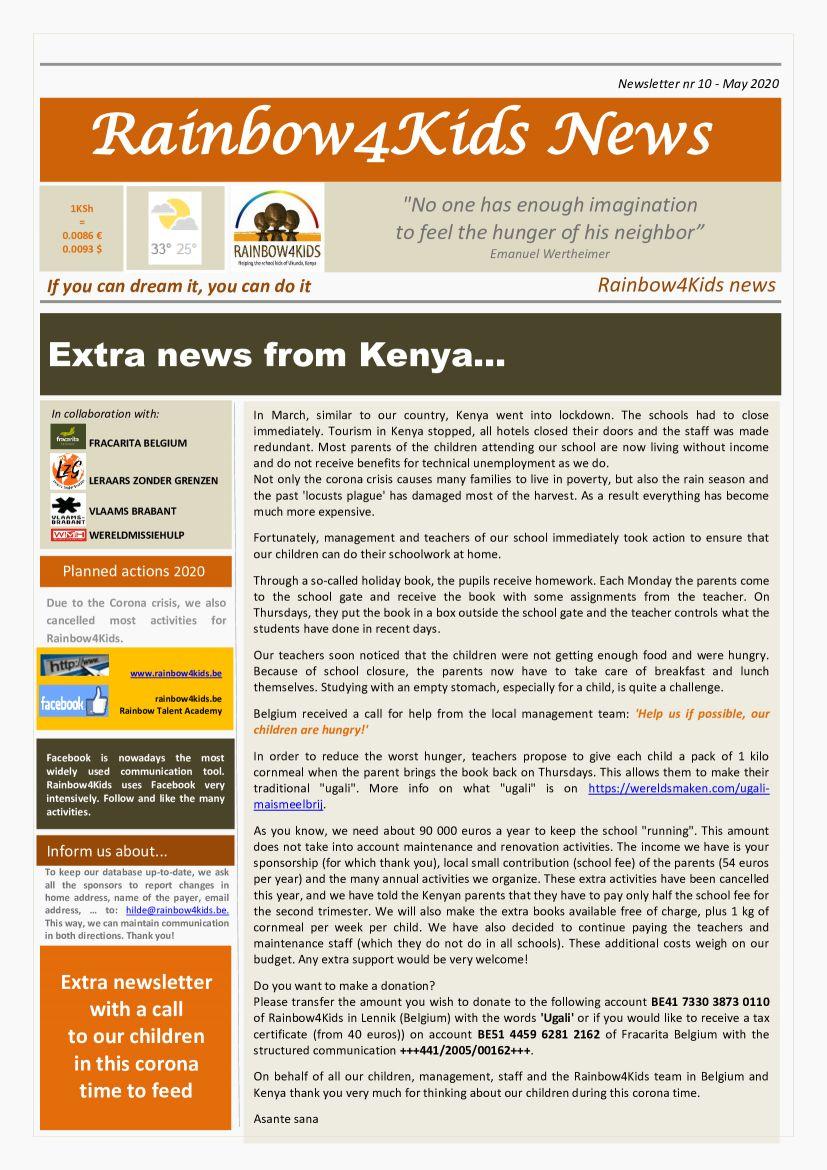 Hopeful greetings from the
Belgian and Kenyan Rainbow4Kids team
Update: 15 May 2020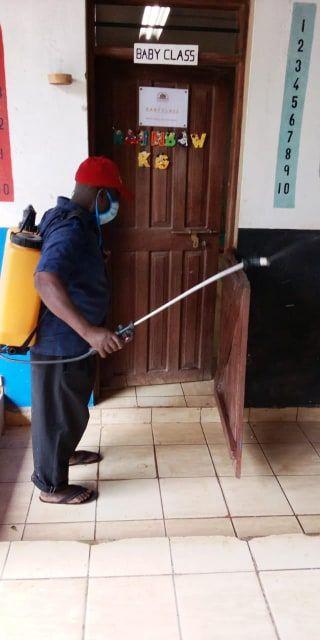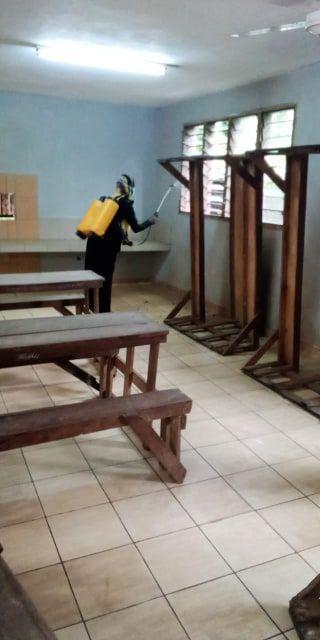 Today, county employees came to the school to disinfect all buildings and the school environment.
Update: 14 May 2020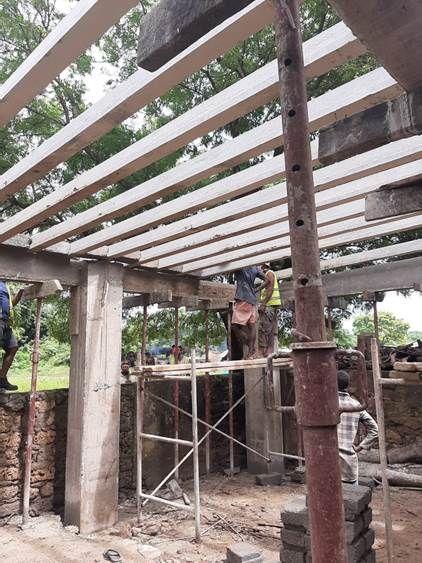 In our previous update, we wrote that work on the kitchen would be carried out during the school's closure because of the corona virus. These have since started. During the works, Angelo, our contractor, determined that the exterior wall is very unstable. While they are now working there, we will take the opportunity to build a new wall between the new concrete poles and then come up there with ventilation blocks.
Update: 7 May 2020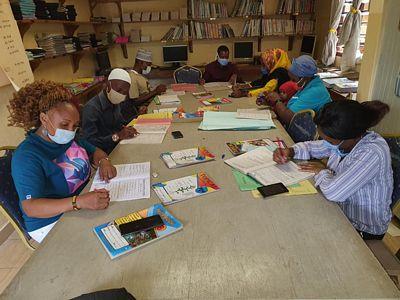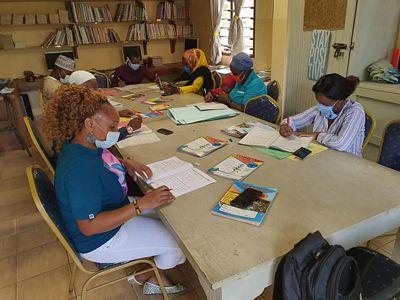 Good work from Rainbow4Kids teachers. Marking pupils work as they learn from home.
Update: 3 May 2020: Rainbow4Kids and the Corona virus
We often get asked how our project is doing now that the corona virus determines everything in Kenya as well.
As you have already read in our newsletter and on the website, our school has been closed since 16 March 2020, at the behest of the Kenyan Government. And even though the school is closed, we will not let our children and staff down. Here is an update on the state of affairs in and around the school.
What have we done in the meantime?
We continue to pay our teachers and other staff. Which doesn't happen in all the other schools. Our principal Baraza is present at the school every day with a teacher.
Teachers have spontaneously created a WhatsApp group with the parents of their pupils from the beginning, giving assignments to the children at home. There have been a lot of positive reactions to this.
Since many parents are now out of work, we are considering announcing that the school fee, (the parents normally pay 1800 KSH (+/- 16 €) per trimester) should not be paid for the second trimester. We will receive approximately 800,000 KSH (+/- 7300 €) less in revenue. On the other hand, we save 140,000 KSH/month because we don't have to buy food. With the help of our sponsors, this must be feasible.
The management has taken the initiative to order "holiday books". We have long doubted whether we should not buy it as a school and give it to the parents. But the cost was again 130,000 KSH (+/- 1200 €) (pre-schoolers: 250 KSH and lower: 300 KSH per book). Apparently, many parents have already come along and paid the amount spontaneously. We have therefore agreed with Mr. Baraza that the parents who really can't afford that book get it from the school. The teachers tell the students which 10 exercises from the holiday book they have to solve per week. On the agreed day (Monday and Thursday) they bring their book to the school for correction. The upper classes are going to have additional exercises.
As with us, now is the time to carry out all kinds of work that has been waiting for a long time.
For example, the roof of the storage facility where the dried wood for use is located in the kitchen needs to be renewed. The water tower near the kitchen is no longer safe. And our cook, Mama Cook, also has to wash off the big cooking pots in an uncomfortable way, and we don't want to have any problems with the health inspectorate. That's why it was decided because we are standing for the rainy season and because the water tower becomes dangerous and because the school is closed and... because a sponsor agreed to spend the proceeds of their pasta evening on this, we asked Angelo (our contractor) to carry out the works. They've started in the meantime.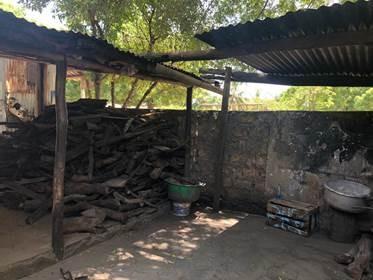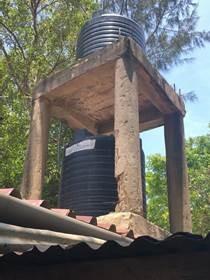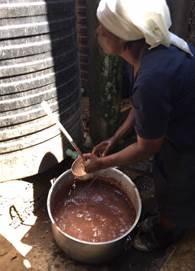 Corona and its consequences for its inhabitants
In Kenya, too, all kinds of actions are underway to help people with food. On 30 April our school was chosen as a distribution center for 6 villages: Mwaweni, Tandoori, Airstrip, Manyatta and 2 others. The Red Cross has visited everyone with a list of 20 questions. Each question got a certain score and if you were in total above a certain score, you got a food package. Only the people who had proof were allowed to come by for a package. There was someone from the governorate present and also police to manage everything. 403 packages were handed out at our school. Each package contained 13 kg or corn kernels, rice or cornmeal; 7 kg beans and 1 liter of cooking oil.
On our Facebook there is a video in which you can see how the distribution went.
More photos and info on Diani Pamoja's website: http://www.dianipamoja.com.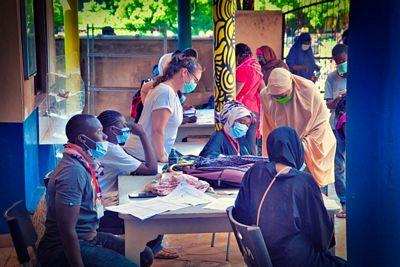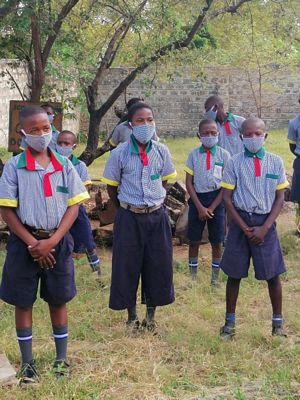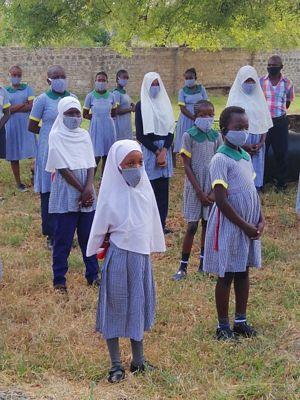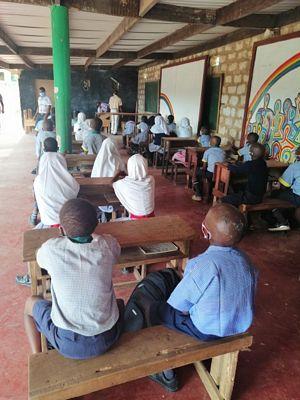 Update 22 March 2020
The government also ruled that no people from countries where the corona-virus has broken out are allowed into Kenya. Scheduled visits by team members and volunteers have been postponed for the time being. At the moment there are still some volunteers and teacher Marleen from Rainbow Talent Academy at Rainbow. Marleen will hopefully return this weekend.
We wish our Kenyan team and all the students all the best and hope to see them back, healthy, as soon as possible.
Due to the new developments where the COVID - 19 has continued to spread the following are to be observed and will be enforced by the security officers with effect from tomorrow:
All churches and mosques to be closed.
All bars are to be closed.
All Mangwe and muguka dens are to be closed.
Hotels to serve only take away food.
Playing of drafts and pool games is suspended.
All meetings with over 5 persons are to be dispersed.
No unnecessary idling at the shops and market centers.
No weddings.
Funerals and burials are to be restricted to immediate family members and not have more than 15 persons.
Public service vehicles to transport 60% capacity
Corona and Covid-19 in Kenia
There is hardly one country in the world where the new coronavirus does not strike. In the last few days, the virus has also reached Kenya.
The government has taken immediate action. Since last Monday, our school has been closed indefinitely on behalf of the government.
The principal, Mr Barasa, and the alternates Mrs Joyce and
Mrs Fatuma are alternately in school.