Covid-19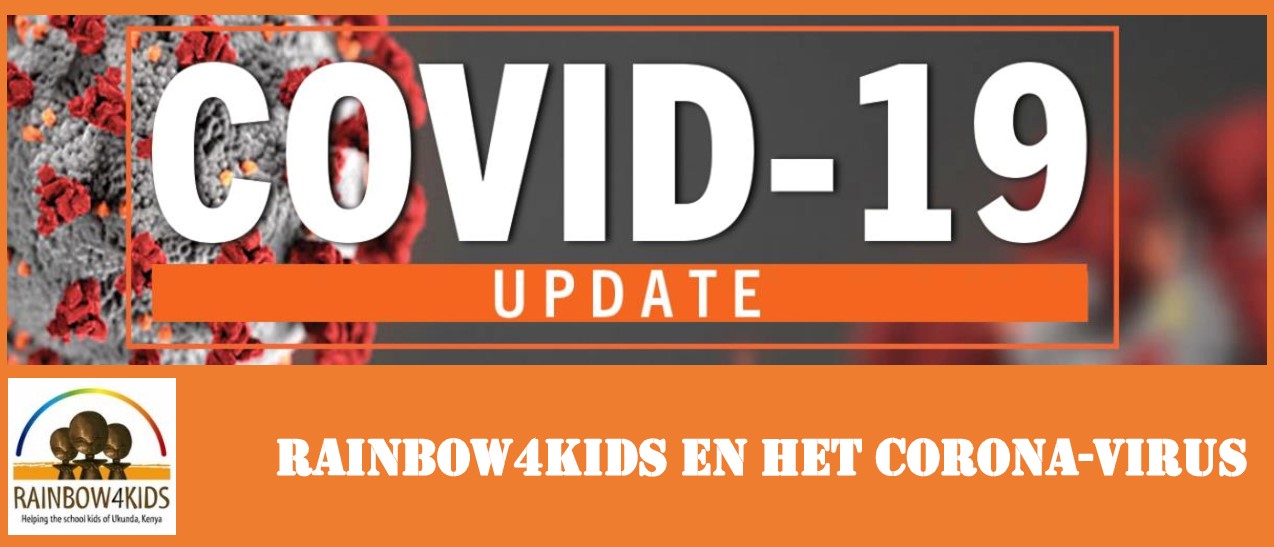 ​
For introduction
On this page of our website we want to keep sponsors, sympathizers and friends of Rainbow4Kids informed of how we deal with Covid-19 at the school.
As you may know, Kenya also went into lockdown on Monday 16 March and all schools were closed indefinitely. We regularly post an update on how things are going.
The latest news is always at the top.
You can also follow us on Facebook:
https://www.facebook.com/pg/Rainbow4Kidsbe-110277329045194/about/?ref=page_internal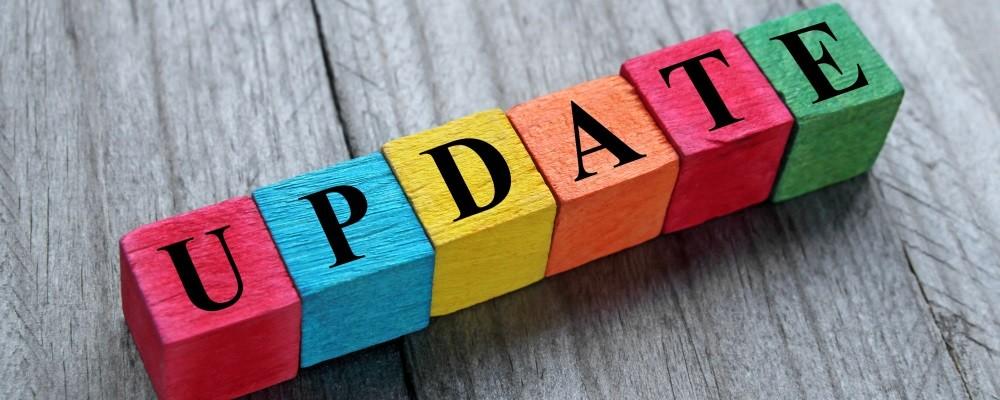 Update 31 July 2020
Today was the last day of the second trimester and tomorrow the holiday for students and teachers will start. As you probably remember, the schools in Kenya were also closed on March 16 and all of Kenya went into lockdown.
During those 4 months the students were not allowed to come to school.
But our Kenyan school management worked out a system to be able to teach their students by using "homework" books. Every week one of the parents comes to school to pick up the book and the teacher noted what their children have to do in that week.
And because many of our children are really hungry, every child gets a kilo of flour to take home every week when they bring the book to school.
We were only able to finance the purchase of these books and the necessary kilos of flour thanks to the beautiful extra gifts we received from you, dear sponsors and sympathizers. Thanks to great actions (sales of homemade waffles, pancakes and potholders in the Pajottenland and pastries in Limburg) from our volunteers here in Belgium, we also raised a nice amount. Thanks to both the bakers and the buyers.
The past few months have taught us that our teaching staff is resourceful enough to teach our children a few things during this bizarre time. We have also experienced that there is also a good relationship between the parents, because they help each other and the parents now also pay more attention to follow up their children, for which we are very thankful and happy.
Tomorrow the holiday starts and that means that the children do not have to work in their homework book and the teachers can also enjoy four weeks of rest at home.
The Kenyan government has meanwhile decided to discontinue the entire school year 2020 (see our previous update), we will continue to do the homework books in the last two months of this school year and the children will also receive a kilo of flour every week.
In the meantime, we are making the necessary 'prescribed' adjustments in our school so that on January 4, 2021
we can welcome all our students again in their trusted and safe learning environment.
Once again our sincere THANKS - ASANTE SANA to everyone who made a bank transfer last month to cover our additional costs for the purchase of homework books and flour.
Update 9 July 2020
Since 8 July it is official: the schools in Kenya remain closed, they start again on Monday 4 January 2021.
On 8 July, Professor Magoha, Minister of Education, announced that schools would not reopen until 4 January 2021,
this is in contrast to the original plan to open on September 1.
So all students will have to redo their year.
Of the 340,000 teachers, about 172,000 receive no or no pay. In particular, private schools, which are funded only by the school fee of the parents of the children whose donations are no longer sufficient to cover the costs, are currently going bankrupt or have no teaching staff if it continues.
Even state schools are paying wages with delays, and the new teachers who start teaching in 2020 are not even paying them at all.
Thanks to the financial support of our sponsors, friends and supporters of Rainbow4Kids, we can still continue to pay our teaching staff their wages.
Rainbow4Kids teachers all come to school several times a week, work out homework for the children and correct them after submission. Our children also get a kilogram of flour every week, so they definitely have something to eat.
We have been thanked several times from Kenya for the support they receive in these difficult times.
This month it is officially still school and there is still "homework" done. In August it is officially holiday and there will be no homework. From September we will start again with the homework and with the preparation of the new school year which thus starts on 4 January 2021.
Just a reminder
All donations from 40 euros that will be transferred in 2020 to Rainbow4Kids through our account with Fracarita Belgium give rise to a tax reduction of 60% on the actual amount paid out in the tax certificate. You can transfer the amount you want to give to account BE51 4459 6281 2162 of Fracarita Belgium,
Jozef Guislainstraat 43, 9000 Ghent, with the structured notice: +++441/2005/00162+++.
Update 3 July 2020
🌈 Want to support Rainbow4Kids extra this year?
Then this year - because of Covid-19 - you get a whopping 60% tax break instead of the usual 45% (Only for Belgium).
Thank you very much for supporting us in this way. 👍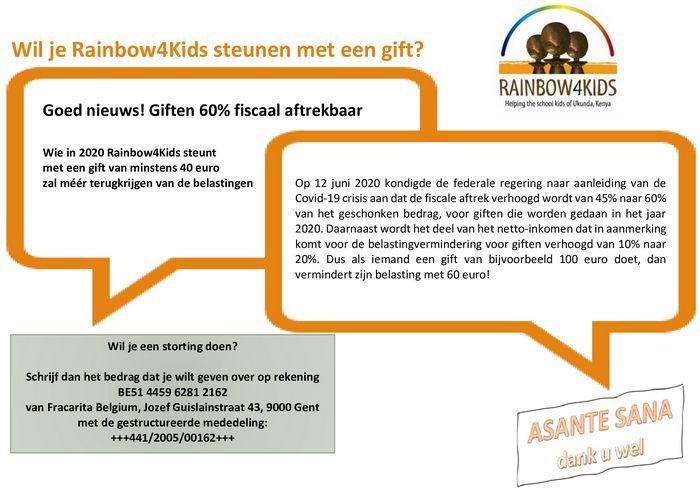 Update 24 June 2020
Here's an update on what's going on in Kenya at our Rainbow4Kids school.
At the beginning of this month we were asked by our school principal, Mr. Barasa, if we still had enough budget to buy a new set of 'homework' books (because 1 book is good for one month) and 1,764 kilos of flour.
Before we made the decision, we asked him clearly if he would like to check that all the exercises were actually made. The next day he already e-mailed some photos and a video to show that the books are actually being used.
This video can be seen on our Facebook: https://www.facebook.com/watch/?v=1552680324910098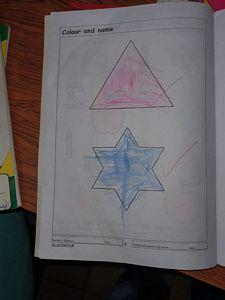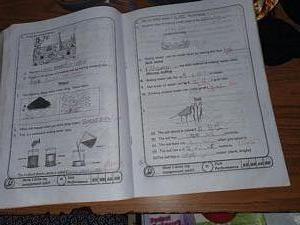 He also agreed and confirmed that we really do help our children and their parents in this way using the following facts:
A father came to tell him (Mr. Barasa) that his daughter was very disciplined. Because when she was playing outside for a while, she spontaneously went in to continue working.
I asked him if maybe the motivation was because they got a kilo of flour every week. Of course this also plays a part. But he also said that it is a great help for the parents, because otherwise their children hang out on the streets too much and also for the children it is apparently not a 'punishment' to make their 'homework'.
He also mentioned that the teachers noticed that some parents had made the exercises themselves.
The teachers have now been instructed to tell the parents that the intention is that the children do it themselves and that making mistakes can and can still be done... But that, if they continued to make the exercises themselves... they wouldn't get flour anymore.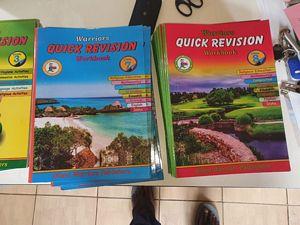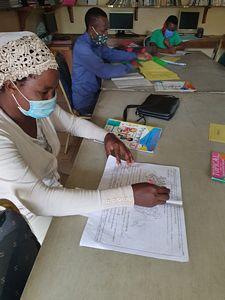 The homework books for this month. The teachers improve homework.
Schools will remain closed until September 2020. The month of August is a school holiday.
In the meantime, we are also considering how and how the schools can be restarted.
We received a questionnaire today with guidelines that the school would all have to comply with before we can reopen.
Are there enough places where the children can wash their hands? (this for 20 seconds)
Is there enough liquid hand soap?
Is there any way to keep 1 meter away in class?
Is there a possibility for social distance in the teacher's room?
Is there social distance in the dining room?
Can the food be given in other places?
Does the school have a fever thermometer?
Do you have an isolation room where someone with a fever can possibly be taken care of?
How are you going to organize the "parade"?
All staff and pupils must wear a mask.
All visitors must wear a mask.
How are you going to provide psychological support for infection?
A whole sandwich... But fortunately, our school has a lot of space. We proposed the inspection to use 2 of the 4 classrooms in the Rainbow Talent Academy, plus the 4 additional rooms under the roof (thanks to the sliding walls) and to put all the beds of the boarding school in one room and to use the other room as a classroom.
Washing hands is also not a problem, there are enough taps scattered throughout the school to be in order. We can house the isolation room in a vacant desk and to eat, we have proposed to do this in the classes.
There are certainly more practical problems coming our way, but we are firmly convinced that we are one of the few schools in Ukunda that will 'as good as possible' follow the law
This was the latest news from Kenya.
We are very happy and happy that thanks to the transfers we received as a result of our additional newsletter, we were able to give Mr. Barasa the permission to buy 'homework' books and flower for our children again.
THANK YOU... ASANTE SANA
Mama Rainbow
Update 4 June 2020
In our last update of May 19, you can read in our extra newsletter that we received a cry for help from Kenya with the message: "Help us, if possible, our children are hungry".
In response to this email, we had to find a solution to help our kids.
In consultation with our Kenyan team, we decided not to abandon our children despite the closure of the school. We offer them the 'homework' books for free, because most parents are now unemployed and cannot afford them.
In the beginning the children came to pick up the books on Monday, in which the teacher indicated which exercises they should do and on Thursday they brought them back for review.
Our teachers noticed that the children were "hungry", so we started giving 1 kg of flour every Thursday when they come to show their homework at school. The flower is an extra motivation for the children and the parents to make their exercises at home.
However, we have had problems with the government because there were too many children in school and we were suspected of teaching "illegally".
We didn't wanted to stop to help our kids so we found a solution together with the management. Now only the parents are allowed to return the books and the flower is given to them after signing a receipt.
Our children and parents are extremely grateful for this extra support.
On behalf of all our children, management, staff and the Rainbow4Kids team in Belgium and Kenya, we thank all the lovely people, with a ♥ for Rainbow4Kids to think of our children in this corona time.
Do you also want to help us?
Please transfer the amount you want to donate to the account BE41 7330 3873 0110 of Rainbow4Kids in Lennik with mention 'Ugali' or on account BE51 4459 6281 2162 of Fracarita Belgium with mention '+++ 441-2005-00162 +++'.
(Use this number if you want a tax certificate, from a gift of 40 euros).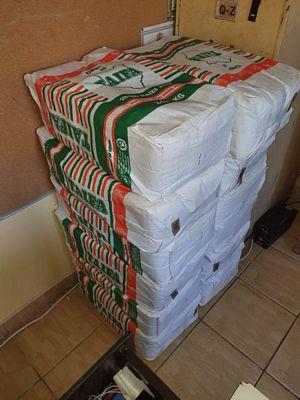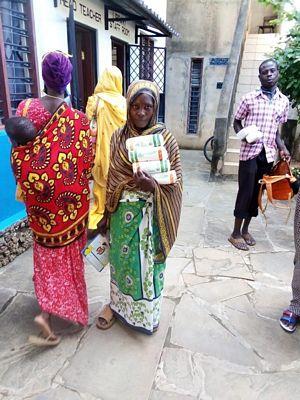 Our stock of Ugli (flour) is ready. On Thursday in the morning it is a coming and going of parents to have
their children's homework checked by the teachers.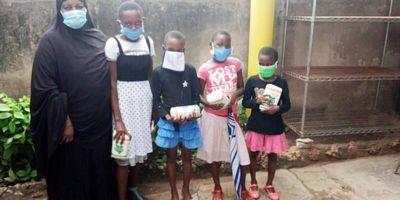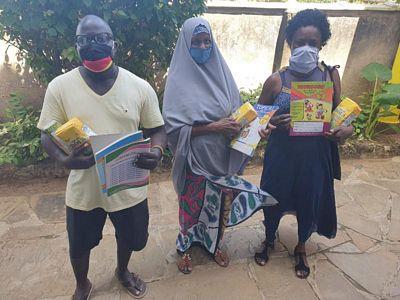 In Kenya, wearing a mouth mask is mandatory. The whole family has come to school and returns with the Ugli
with satisfaction.They'll have food back in the house with that.
Update 19 May 2020
Dear Rainbow4Kids sympathizers,
I hope you're okay.
I hope you're healthy and well.
Hopefully, like us, you'll try to reduce the corona measures bit by bit.
Hopefully we return to our normal lives, a normal handshake, hug or kiss ...
So much hope to get through this together.
The ones that may be hit hardest are the least guarded countries and people.
With great concern we follow what is happening in Kenya, where a particle of our hearts lies.
We invite you to read an update on the situation in our Rainbow4Kids school in our additional newsletter below.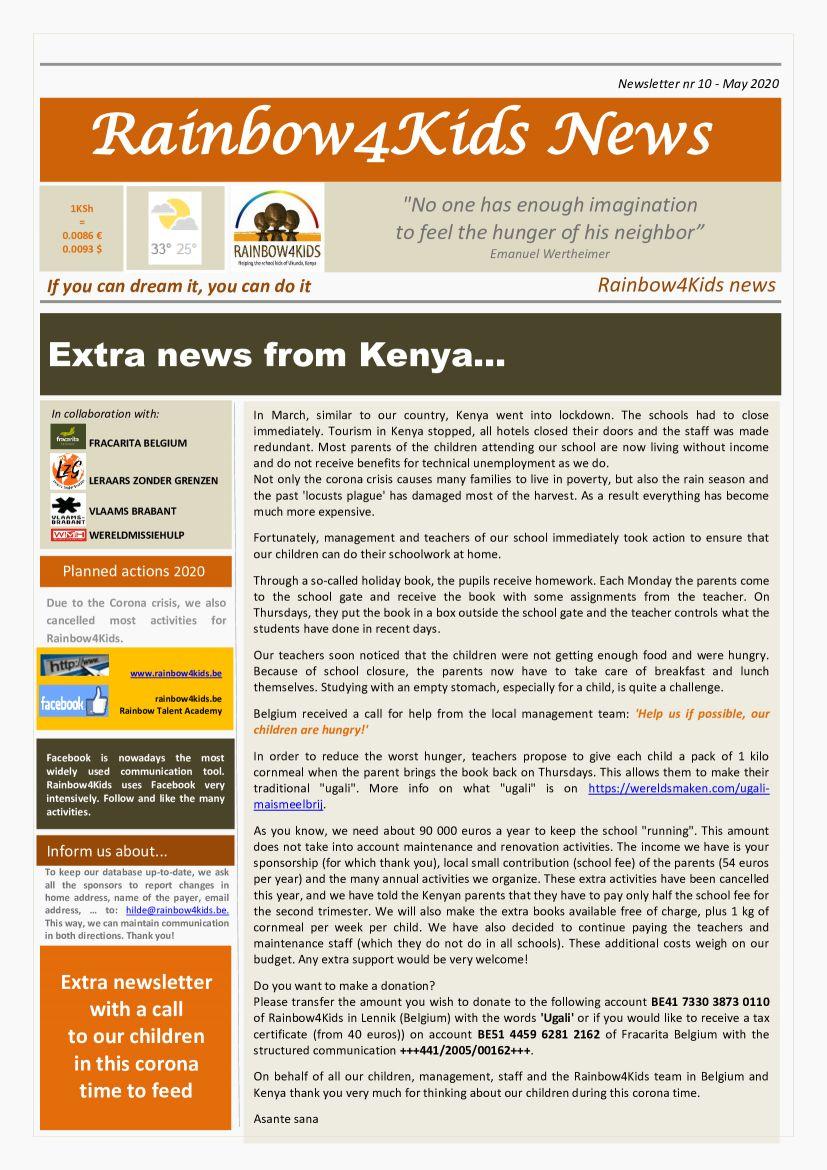 Hopeful greetings from the
Belgian and Kenyan Rainbow4Kids team
Update: 15 May 2020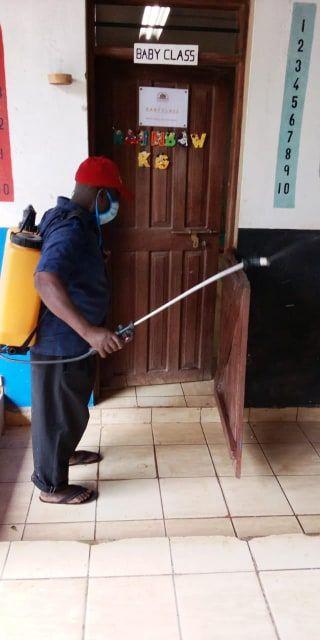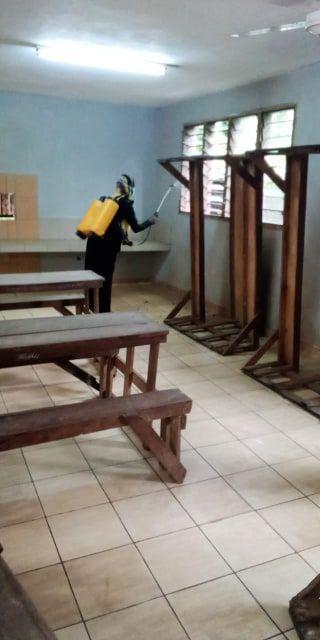 Today, county employees came to the school to disinfect all buildings and the school environment.
Update: 14 May 2020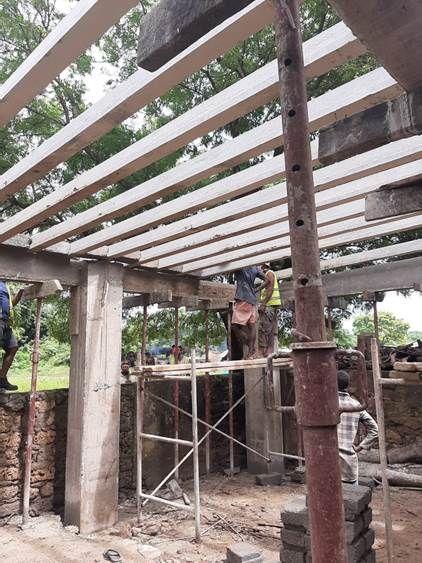 In our previous update, we wrote that work on the kitchen would be carried out during the school's closure because of the corona virus. These have since started. During the works, Angelo, our contractor, determined that the exterior wall is very unstable. While they are now working there, we will take the opportunity to build a new wall between the new concrete poles and then come up there with ventilation blocks.
Update: 7 May 2020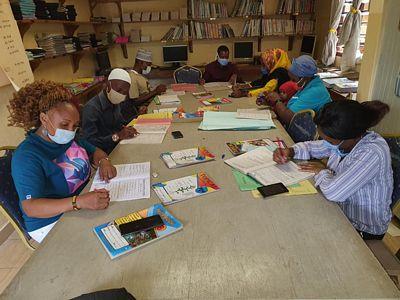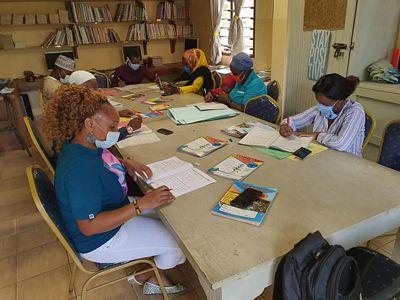 Good work from Rainbow4Kids teachers. Marking pupils work as they learn from home.
Update: 3 May 2020: Rainbow4Kids and the Corona virus
We often get asked how our project is doing now that the corona virus determines everything in Kenya as well.
As you have already read in our newsletter and on the website, our school has been closed since 16 March 2020, at the behest of the Kenyan Government. And even though the school is closed, we will not let our children and staff down. Here is an update on the state of affairs in and around the school.
What have we done in the meantime?
We continue to pay our teachers and other staff. Which doesn't happen in all the other schools. Our principal Baraza is present at the school every day with a teacher.
Teachers have spontaneously created a WhatsApp group with the parents of their pupils from the beginning, giving assignments to the children at home. There have been a lot of positive reactions to this.
Since many parents are now out of work, we are considering announcing that the school fee, (the parents normally pay 1800 KSH (+/- 16 €) per trimester) should not be paid for the second trimester. We will receive approximately 800,000 KSH (+/- 7300 €) less in revenue. On the other hand, we save 140,000 KSH/month because we don't have to buy food. With the help of our sponsors, this must be feasible.
The management has taken the initiative to order "holiday books". We have long doubted whether we should not buy it as a school and give it to the parents. But the cost was again 130,000 KSH (+/- 1200 €) (pre-schoolers: 250 KSH and lower: 300 KSH per book). Apparently, many parents have already come along and paid the amount spontaneously. We have therefore agreed with Mr. Baraza that the parents who really can't afford that book get it from the school. The teachers tell the students which 10 exercises from the holiday book they have to solve per week. On the agreed day (Monday and Thursday) they bring their book to the school for correction. The upper classes are going to have additional exercises.
As with us, now is the time to carry out all kinds of work that has been waiting for a long time.
For example, the roof of the storage facility where the dried wood for use is located in the kitchen needs to be renewed. The water tower near the kitchen is no longer safe. And our cook, Mama Cook, also has to wash off the big cooking pots in an uncomfortable way, and we don't want to have any problems with the health inspectorate. That's why it was decided because we are standing for the rainy season and because the water tower becomes dangerous and because the school is closed and... because a sponsor agreed to spend the proceeds of their pasta evening on this, we asked Angelo (our contractor) to carry out the works. They've started in the meantime.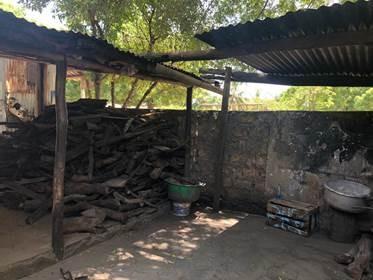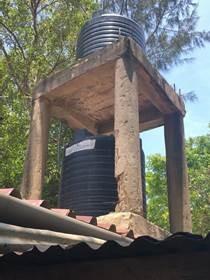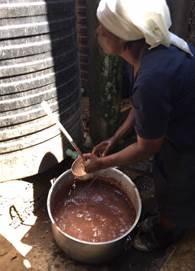 Corona and its consequences for its inhabitants
In Kenya, too, all kinds of actions are underway to help people with food. On 30 April our school was chosen as a distribution center for 6 villages: Mwaweni, Tandoori, Airstrip, Manyatta and 2 others. The Red Cross has visited everyone with a list of 20 questions. Each question got a certain score and if you were in total above a certain score, you got a food package. Only the people who had proof were allowed to come by for a package. There was someone from the governorate present and also police to manage everything. 403 packages were handed out at our school. Each package contained 13 kg or corn kernels, rice or cornmeal; 7 kg beans and 1 liter of cooking oil.
On our Facebook there is a video in which you can see how the distribution went.
More photos and info on Diani Pamoja's website: http://www.dianipamoja.com.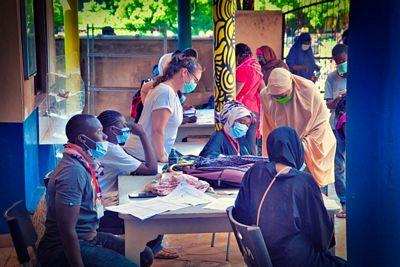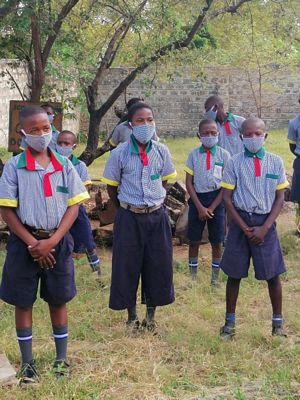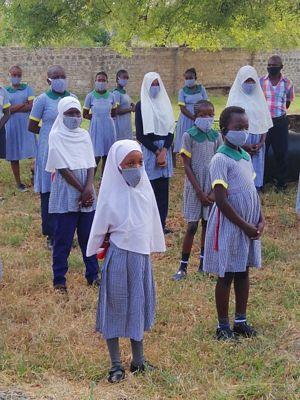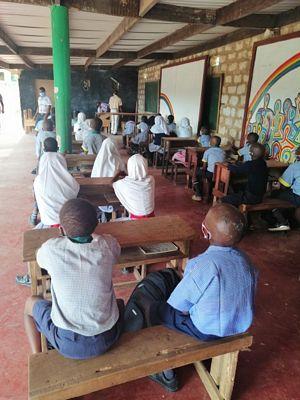 Update 22 March 2020
The government also ruled that no people from countries where the corona-virus has broken out are allowed into Kenya. Scheduled visits by team members and volunteers have been postponed for the time being. At the moment there are still some volunteers and teacher Marleen from Rainbow Talent Academy at Rainbow. Marleen will hopefully return this weekend.
We wish our Kenyan team and all the students all the best and hope to see them back, healthy, as soon as possible.
Due to the new developments where the COVID - 19 has continued to spread the following are to be observed and will be enforced by the security officers with effect from tomorrow:
All churches and mosques to be closed.
All bars are to be closed.
All Mangwe and muguka dens are to be closed.
Hotels to serve only take away food.
Playing of drafts and pool games is suspended.
All meetings with over 5 persons are to be dispersed.
No unnecessary idling at the shops and market centers.
No weddings.
Funerals and burials are to be restricted to immediate family members and not have more than 15 persons.
Public service vehicles to transport 60% capacity
Corona and Covid-19 in Kenia
There is hardly one country in the world where the new coronavirus does not strike. In the last few days, the virus has also reached Kenya.
The government has taken immediate action. Since last Monday, our school has been closed indefinitely on behalf of the government.
The principal, Mr Barasa, and the alternates Mrs Joyce and
Mrs Fatuma are alternately in school.