Gastenboek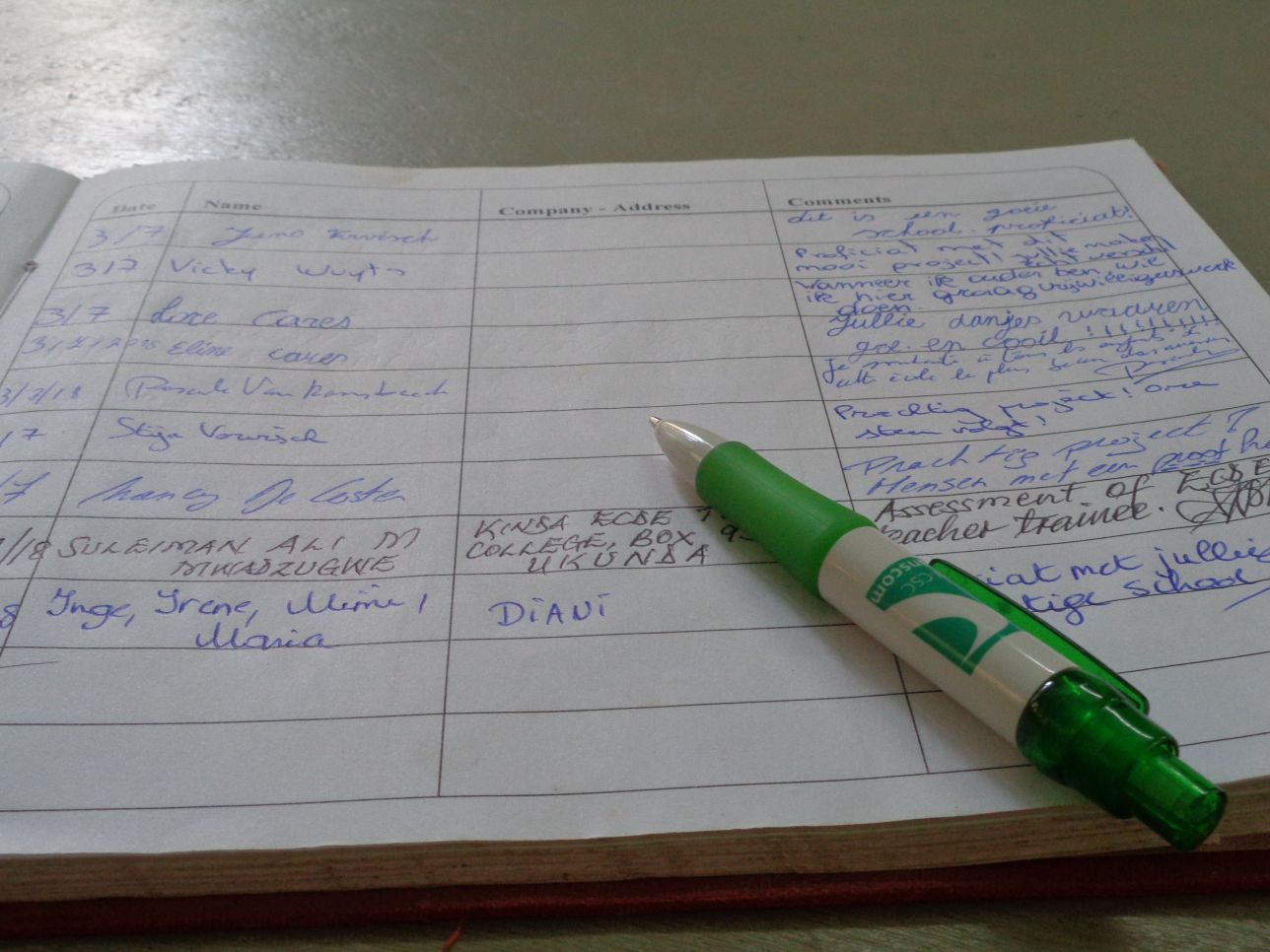 Het is goed om te weten, dat als je in Kenia verblijft, je altijd welkom bent op onze school om een bezoekje te brengen. Je kunt dan ook persoonlijk kennis maken met je sponsorkind. Hou er wel rekening mee dat we een school zijn en geen toeristische attractie.
Gelieve je komst dus op voorhand te melden, zodat we weten wanneer je komt en je eventueel sponsorkind ook aanwezig is.
Onze adresgegevens vind je bij 'Contacteer ons'
Sinds 2010 ligt er in onze school een gastenboek, waarin de bezoekers hun reacties en ervaringen over het project kunnen neerpennen.
Leuk om te weten dat er reeds bezoekers zijn geweest uit 17 landen.
(België; Canada; Duitsland; Engeland; Frankrijk; India; Italië; Kenya; Luxemburg; Nederland; Oostenrijk; Polen; Portugal; Spanje; Tsjechië; Zweden en Zwitserland).
Impressionant. Doe zo voort.

Marcel Montfoort
Wat een ontvangst door de kinderen in de school. Geen woorden te vinden om dit onvergetelijke verhaal te beschrijven. Jullie zijn goed bezig. Veel moed!
Eric & Lieve uit Lennik
Great visit... thanks. A very nice project.
Annie & Luc uit Itterbeek
Dit is een goeie school. Proficiat!
Proficiat met dit mooi project! Jullie maken echt het verschil.
Prachtig project! Mensen met een groot hart.
Big hugs to all my friends and congratulations to all of the team.



The school and the village will be in our heart for ever.
To the mama with the big

wonderful! I wish you all the luck of the world.
Zeer onder de indruk en heel veel respect voor dit initiatief.
We are very happy to see this great school-project and the nice talent-show.
We zijn diep gelukkig met de kindjes en jullie allen te ontmoeten.
I pray to us God for all good.
Merci pour cet accueil.
Nice work. You 're an inspiration for everybody.
Dank voor de hartelijke ontvangst.
Great to be here. We meet our children.
Best wishes to the school and many successes for the children.
Lore & Eline uit België
You all stole my heart with tears in my eyes: respect what you'r all doing.
Wim uit Limburg
Great work. Thank you so munch for showing us.
Daniel uit Spanje
Thank you, you have a fantastic school with wonderful children. Best wishes to the school and many successes for the children.
Wanneer ik ouder ben, wil ik hier graag vrijwilligerswerk doen. Jullie dansjes waren goed en cool!!!
What a beautiful thing to make children learn and see them happy.
The are no words to subscribe what a feeling this gives us, such a nice project. In no way comparable with 'just' welly. It is a great wonderful. Thank you for that! XXX
Keep on doing the good work.
Great to be here. We meet our children.
Asante sana! Thank you so munch for the visit!
Un grand merci pour votre accueil et bravo pour votre travail.
Rosemarie & Antoine uit Frankrijk
We are impressed by the good work you are doing here; very nice atmosphere and the teachers are really motivated and passionate by their job. You really make sur that the kids have a good future.
Elke uit Portugal
Woorden schieten te kort
Christine uit België
Impressive!!! Hope that all the dreams comes out.
Harry uit Montfoort
All the best for the project.
Margret uit Duitsland
Big thank for all of you. You are great.
Tom uit Zwitserland
You're doing a great and beautiful job.
Christina uit Canada
Hartelijk dank voor de onvergetelijke ontvangst! Nog veel succes met het project.
Joke & Jasmin uit Schelle
Thanks to you all for giving a chance to this lovely childeren!
Family Lohei-Vispi uit Luxembourg
Nice school with wonderful childeren and reachers.
Virginie & Laurent, uit Parijs
Very nice school. Very good staff. A wonderfull project!
Family Vitse uit Frankrijk
Such an inspiring experience! What an amazing project. Keep it up! Thanks
Lennaert & Nadine Lange - Olivier Quanne uit Duitsland
Thank you for the kindness and your amazing songs.
Families Hölzken, Ensing & Van der Vegt uit Nederland